.homepagecontent {
max-width: 666px;
padding: 4%;
background-color: #fff;
}
Scroll down
⇓
---
On December 29, 1965, the Electronic Baroque – as cinema – was launched during the first day of shooting for 2001:  A Space Odyssey. Inside a "150 x 50 x 20 foot hole,", the screenwriter Arthur C. Clarke was awed by Baroque miniatures, "neat little electric-powered excavators, bulldozers [that] could really work on the Moon!" He and director Kubrick had been struggling to envision the key image for the film, the modernist shape as a living organism. They agreed upon a "jet-black" slab so easily smudged that only a glove on screen could touch it. It resisted fingerprints, like evolution as a laser device (more as a transmitter for evolution). Its surface was blank, very much in the spirit of Kubrick's grim theories on the occult. It looked godlike because it did not care at all.
Taken from: The Vatican to Vegas. A History of Special Effects by Norman M. Klein. The New Press, 2004.
---
IF: Goal = blah-blah-blah?
Long-Term Memory = blah-blah-blah
THEN: MARK GOAL
Yes
Steven Pinker. How the Mind Works. W. W. Norton & Company, 1997.
---
My works are 'digital born', they arise in the computer: my virtual atelier. I use a combination of digital image and model archives, 3D software, video-post, and digital collages or assemblages. Many works can be categorized as 'diorama's'.
I attempt to connect the digital realm to a broad sense of art history: from prehistoric art to popular culture. My work wants to be an interface between a computer mouse and a Neolithic hand axe.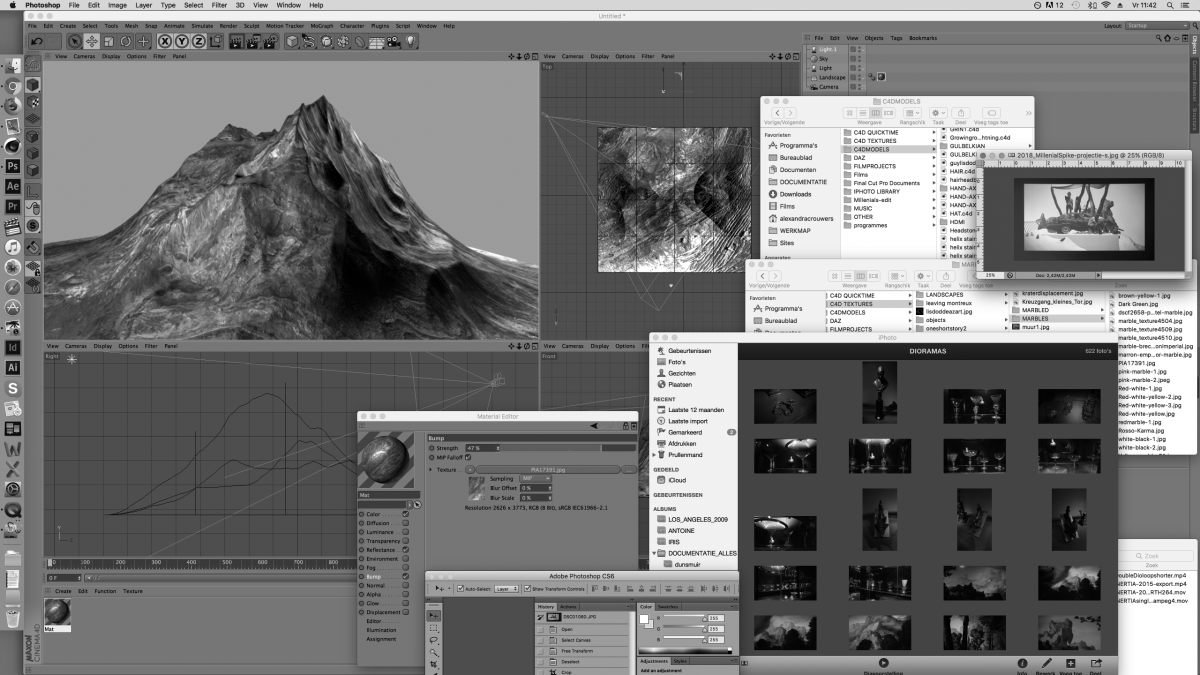 ---
Below, a playlist with a selection of video works and installation views, 2014 – 2018, starting with 15 Minutes, a compilation with fragments of video installations and video works. Please watch the videos full screen and use headphones or external speakers.
Playlist:
---