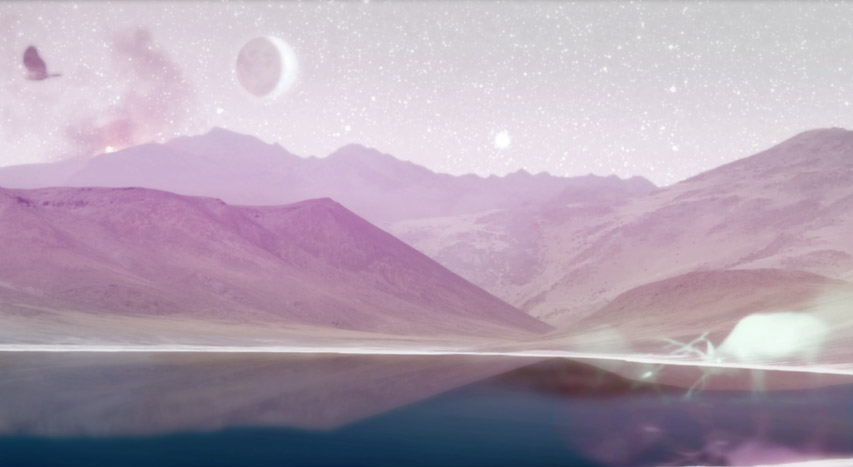 The White Hide (III)
3-channel hyperpanoramic video installation (3xHD1080), colour, sound, 5'31", 2013
A slow travel movement through a post-apocalyptic landscape, from dusk till dawn. Hologram-like elements pop up and disappear again, together with gas-outbursts and volcano eruptions. The frame suggests a painting-like image but also gives the impression to be the outline of a hole in the projectionwall, through which the viewer is watching the scene.
The subtile soundtrack, compiled of wind, bells and the sound of thunder or explosions, add to the otherworldly atmosphere.
The White Hide [III] was produced for and part of On the Precipice, curated by Kelly Richardson for ISIS Arts (UK).
The installation has two previous versions. The White Hide [I] is an installation with three projected slides and a videoloop. The White Hide [II] is a single screen rendition with sound.
See also the 2016 incarnation The White Hide [IV].
Exhibitions
2012 The White Hide [I], Rio/Retro, F44 (sic), Antwerp (B) 2012 The White Hide [II], Friday the 13th, RA, Antwerp (B) 2013 The White Hide [III], On The Precipice, The Big M, Isis Arts. On the Precipice toured the North-East of England throughout 2013 in The Big M, the tour attracted over 5,800 visitors to The Big M which toured to the Toffee Factory as part of The Late Shows (Newcastle upon Tyne), Saltwell Park (Gateshead), Whitley Bay (North Tyneside), mima Middlesbrough Institute of Modern Art (Middlesbrough), Woodhorn Museum and Northumberland Archives (Ashington) and Berwick Film & Media Arts Festival (Berwick upon Tweed).
Below: The White Hide [III] on tour in The Big M of ISIS Arts (2013).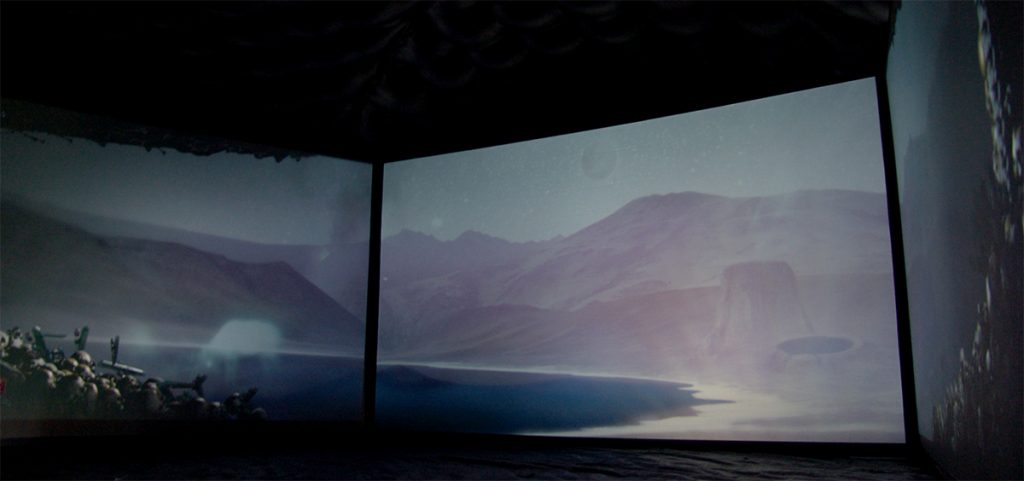 Below: the first incarnation of The White Hide at F44, Antwerp. 3 Slide-projections, videoloop, 2'18", no sound/colour, 2012.