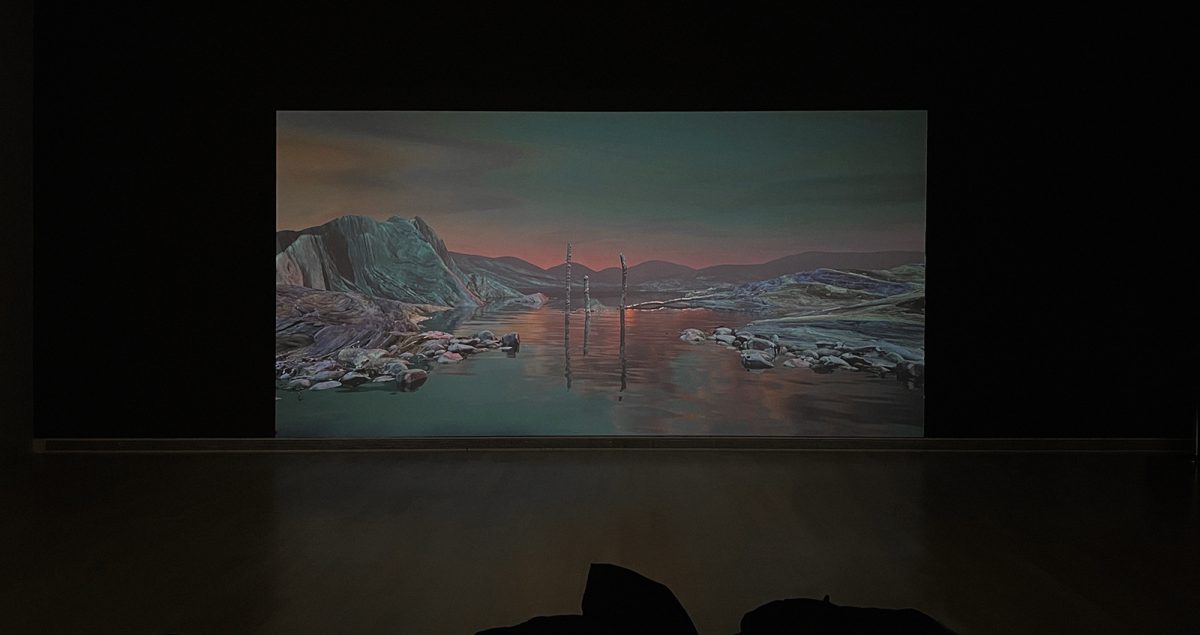 Installation view 'The White Hide (v)' at Ludwig Múzeum, Budapest (HU): 'Smaller Worlds. Diorama in contemporary art', October 2022 – January 2023.
The White Hide
(I) 3 analog found slides of mountainous landscapes, Kodak projectors, SD projection of holographic fighting deer, 2012
(II) single screen HD video loop, colour/audio, 3'40", 2012
(III) 3-channel hyper panoramic video installation, colour/audio, 6'00", 2013
(IV) SD videoloop (colour, no sound) projected over a black and white slide projection, 2016
(V) single screen HD video loop, colour/audio, 2'00", 2022
'The White Hide [v]' centers on two deer that are locked in a perpetual fight. Their hypnotizing dance is set in a grand vista at dusk, reminiscent of Romantic era landscape paintings. This sublime and utterly desolate view is contrasted with the holographic appearance of the deer, questioning the 'realism' of the scene. Where – or 'when' – are we, exactly? Is the viewer presented with an echo of a distant past or a glimpse of a dystopian future where wildlife is reduced to simulations?
The three tree stumps in the middle of the scene are part of a digital – photogrammetric – 3d model of actual trunks, and form a hint to Crouwers' artistic doctoral research involving a former family forest that fell victim to the Europe-wide spruce bark beetle plague.
This is the fifth iteration of 'The White Hide' since it was conceived in 2012 as a combination of analog slides and a video projection. It connects to recurrent themes in my work: the deer find their counterpart in prehistoric cave paintings, the immersive qualities and stillness of the digitally constructed landscape reference habitat dioramas in natural history museums, and the subtle changes in light are a nod to the hugely popular 19th century illusionary diorama shows of Daguerre and Bouton; a form of pre-cinema.
In its various incarnations it has been shown, amongst others, as part of the 'On the Precipice' program, curated by Kelly Richardson and touring across the UK in 2013 (Berwick Film & Media Arts Festival, Woodhorn Museum (Ashington), Toffee Factory (Newcastle), Middlesbrough Institute of Modern Art), and 'Smaller Worlds. Diorama in contemporary art' in Ludwig Museum, Budapest (HU).
Examples (taken from Cave Art, Jean Clottes. Phaidon Press Inc, London, 2008):
Chauvet cave, Ardèche, France (Panel of the Horses), fighting rhinoceroses. Charcoal drawing on rock. Length of left rhinoceros: c. 100 cm. Dated to +/- 32,000 years BP. (p. 38-39)
Below: (Bellowing?) Stag, manganese oxide on rock (Axial Gallery). Length: 117 cm. Lascaux Cave, Dordogne, France. Dated to +/- 18,000 years BP. (p. 108-109)
The White Hide has had several incarnations since it was conceived in 2012.